Help:Tutorial
From Indians in Magdeburg - A Guide for Students
Introduction
[
edit
]
As a new contributor, you may feel a little overwhelmed by the prospect of editing a wiki. Don't worry too much if you don't understand everything at first. You just need to remember that you can't break the wiki and although you should try to be clear, perfection is not required. Collaborative editing means that incomplete or poorly written first drafts can evolve over time into excellent articles.
A wiki does not have original content
[
edit
]
The goal of this wiki is to create a comprehensive and neutral summary of existing mainstream knowledge about life in Magdeburg and/or Germany. So, the articles written here need not be original. Accordingly, and because this wiki is open to editing by anyone, it is required that information be verifiable. So, it would be ideal to cite reliable sources for all information so that easy verification is possible.
Be respectful
[
edit
]
General social norms should be followed by all editors. The Indians in Magdeburg Community is made up of people from different cultures, with different views, perspectives, opinions, and backgrounds, sometimes varying widely. Editors are expected to treat each other respectfully, work together collegiately, and avoid behaviour that would be widely seen as unacceptable, disruptive, tendentious, or dishonest.
Creating an account
[
edit
]
There are two ways in which you can start editing the wiki pages.
First is without creating an account. In this case, your IP address will be visible publicly in the edit history once you have saved the changes. Although one cannot find any information just from your IP address, it is usually not considered a good practice.
The second option is to simply create an account by clicking on "Create account" button on the top right corner of the page. You only need to choose a username and password. It is optional to give your email address (which will not be shared publicly). The email address option is useful in the case you forget your login ID or password. You can also opt to get notifications of changes made to any pages of your choice. Click on "Watch page" to get email notifications for changes made to that page by anyone.
Editing basics
[
edit
]
This is an editable web site powered by a free software called MediaWiki - the same software that also powers Wikipedia. MediaWiki allows anyone to edit any page within the wiki.
Editing a page
[
edit
]
To edit a page, you simply click on the edit button at the top of a page. Here is a short video about the edit button.
On clicking edit, the text of the page will be displayed inside an editable text area. You'll see some square brackets, equals signs and other formatting markup; but do not be discouraged. Those are only meant for clearly demarcate certain parts of the articles, which may be headings or web links. For the most part, you can simply type in the information you feel is missing or misrepresented. To preview your changes without saving them, you can hit the "Show Preview" button. It is highly recommended to do this before you save the changes, even for a little typo correction. When you're satisfied with your changes, press the "Save this Page" button. Your changes will appear immediately.
Advice: Before you hit the Save button for the first time, enter a line summarizing it. This makes it easy to know what changes you have made to the article. For example, are you updating some information or web links? Deleting incorrect or obsolete statement? Or adding a whole new section? Mention your update in short in the Summary field.
Formatting
[
edit
]
Links and formatting within an article is achieved using special Wikipedia markup. For example, you can make a text bold or italic with the use of the special character ' in the following manner:
Similarly, you can mark the section or subsection headlines using the special character =:
== Section Header Name ==
=== Subsection Name ===
For more options on formatting (tables, bullets, lists, etc.), check the Formatting Guide on MediaWiki.
You can link to a page using the square brackets. To link to an internal page on the wiki - for example Main Page - this can be achieved using two square brackets in the following manner:
[[Main Page]]
An external URL - for example [1] - can be linked in this manner:
[https://www.ovgu.de]
You'll notice that external links are followed by a little arrow. If you want the URL to also have a name - for example OvGU - it can be achieved by adding a space after the link and writing the desired name:
[https://www.ovgu.de OvGU]
For more options on links, check the Link section on MediaWiki's help page.
An image must be first uploaded before it can be used on a page. Images that are stored on a MediaWiki server are usually rendered by using the File: prefix.
[[File:filename.extension|options|caption]]
For example, the image IndiansInMDWide.png can be inserted in this article with a width of 150 px using the syntax [[File:IndiansInMDWide.png|150px]]. The result is shown below: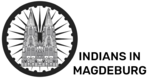 More details about editing and formatting images can be found here.
Advanced editing
[
edit
]
This was just a short introduction to editing about the style and content of MediaWiki articles, and give a short introduction to the community conventions. This is a basic tutorial only, however MediaWiki's User Guide offers a full reference for MediaWiki markup on the Help:Editing page. If you want more details about any information in the tutorial, there are links to other resource pages throughout the tutorial.